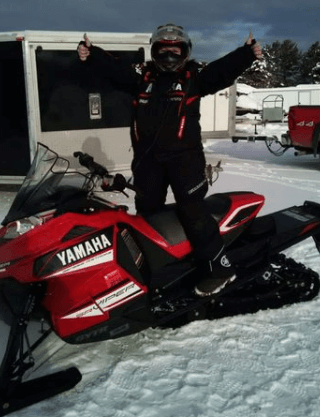 Julee Knapp
I am riding in the V700 this year for friends and family who have been lost to cancer, and for those that are still fighting this awful disease. I also ride in memory of my Dad who lost his battle to cancer when he was only 49 years old. I grew up on a snowmobile with my Dad, when he went--I went along!!! I cherish every memory each time I get on "Vixen" and know he is riding with me. What he would not give to ride a sled just one more time...Please consider donating to help me reach my goal, and to this wonderful organization. I have done the V500 3 times, so time to saddle up for those 700 miles in one day!
As a part of the Snowball Cancer Challenge 2023, Nick and a group of riders on Feb 9, 2023 and Feb 16, 2023 will attempt to ride 500+ miles in ONE DAY – The Valentine 500. These riders will obtain pledges and donations to keep them motivated on their long ride(s). The money raised will go to the Keller Family Community Foundation to support their mission. All donations will be tax deductible.
Cheri Mader
Thank you for helping raise money. Cancer touches everyone's life in one way or another.
Received this donation 5 days ago
$51.75
I've raised
to help families fight cancer
Donate Now